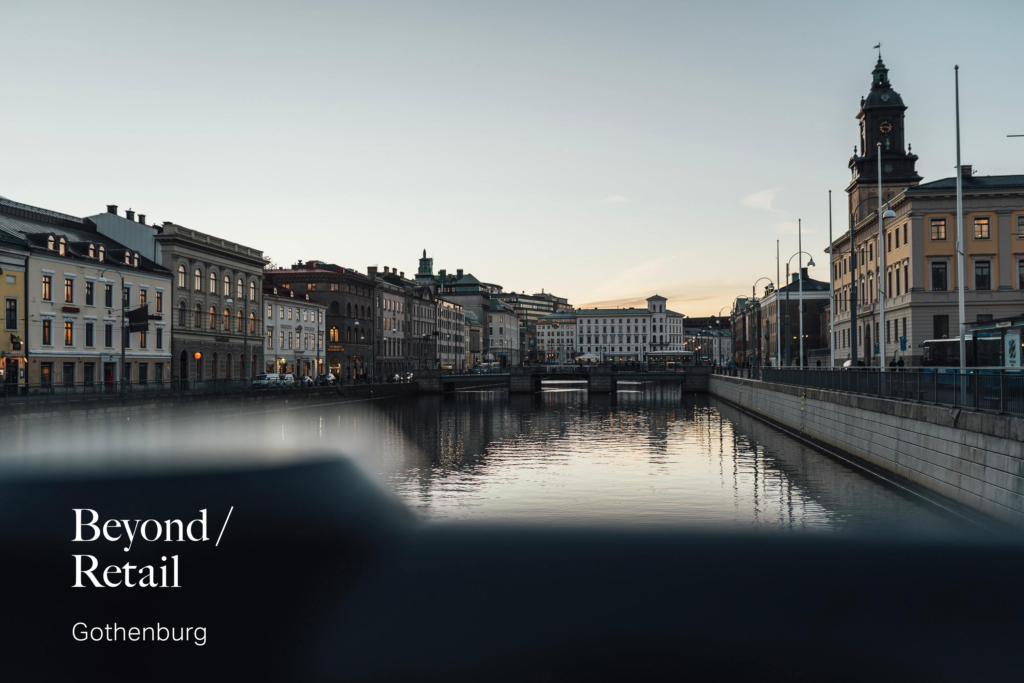 During the first half of 2022, Beyond Retail has been growing, recruiting to the management team as well as to other senior consultancy roles. Now the Stockholm based company is expanding geographically as well, with a new hub opening up in Gothenburg. The company has noticed a high demand for digital competency in the area, and sees a huge opportunity to keep expanding their offering.
Although recruitment and consultancy firm Beyond Retail is Stockholm based, they have always had plenty of business in other parts of the country as well – especially in the south of Sweden and in Gothenburg, working with brands such as Lagerhaus, Gina Tricot, Volvo and Bubbleroom. Gothenburg is conveniently located close to important cities such as Borås, and after the pandemic, many companies are open to hiring a consultant working from another location than Stockholm.
As part of Beyond Retail's growth journey, the Gothenburg hub felt like an important and natural next step. Gustav Kinde, Senior Digital Marketing Consultant, was the first to join the new hub. After running his own performance agency during the past years, working with clients such as Care of Carl and Nilson Group, he felt it was time for this next step. Gustav will bring a deep knowledge of digital growth to Beyond Retail.
"I think it's very exciting that Beyond Retail will be establishing a hub here in Gothenburg, as there are plenty of opportunities in the area. I chose to join Beyond Retail because, in my opinion, they work with some of the most inspiring E-commerce clients in the Nordics. Today, I'm happy to be part of such an amazing team, the people here are better than I could have ever hoped for", says Gustav.
The second person joining the Gothenburg hub is Stefan Johanson, who previously held a role at paid social agency Zalster. Just like Gustav, Stefan has extensive experience working in that area – an area where Beyond Retail is currently seeing a spike in demand.
"What intrigues me the most about becoming a consultant is that it allows me to combine my previous experiences, mainly from my time at agencies. In those roles, I have often felt that bringing an outside perspective as well as an overview combined with knowledge has allowed me to see what can be improved when it comes to a company's marketing", says Stefan.
Linda Dentler, who has previously been responsible for CRM and loyalty at companies such as Nilson Group, Lagerhaus, Kjell & Co and most recently Aim'n, will be strengthening the CRM offering at the Gothenburg hub. She is excited to be joining Beyond Retail on this new journey and mentions that she's noticed a high demand for CRM specialists in Borås as well as the whole west coast.
"There are a lot of interesting clients in this area, and I'm excited to be a part of this journey as Beyond Retail expands with a new hub in Gothenburg. In addition, it's a company with strong growth and a goal to keep on developing and improving. I've been interested in trying a consultancy role for a long time as I see many benefits in being part of a bigger team where experience and knowledge can be shared. The CRM role is sometimes a bit lonely, so I'm looking forward to having all these amazing colleagues to exchange ideas and thoughts with." says Linda Dentler.
The new hires are the first steps for the Gothenburg hub, but the goal now is to continue growing. After summer, Beyond Retail will continue recruiting for other positions within Digital Marketing, E-commerce and CRM.