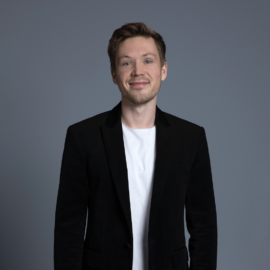 Gustav Lundström
Senior Recruitment Consultant
This job is open for applications
About the role
As an Account Manager you will be a part of the Swedish E-commerce Team who manages advertisers within the E-commerce Sector. The team consists of 10 people who work closely together to drive and optimize business for our advertisers. This is a social, energetic team who come up with a lot of activities together both at team-level as well as with the whole office. The feeling of looking forward to coming to the office is important to us.
At Adtraction we believe in the principle of delegate and trust, which increases the efficiency of the workflows, and results in happier employees with ownership to their work. At the same time, you will have continuous support from your team with several years of experience in partner marketing. You will receive an assigned portfolio of advertisers to manage and maintain. A selection of our advertisers are Åhlens, KICKS, LYKO, Webhallen, MEDS, Nextory, Viaplay and HelloFresh.

As an Account Manager you are responsible for your portfolio of advertisers with the purpose of optimizing their marketing spend on our platform. It requires you to build trusting relationships with our clients, as well as collaborate with our internal team who manages our partners. You will work in a proactive way to identify business opportunities and match our advertisers with our partners in the best possible way.
Responsibilities & tasks
Account management within e-commerce
Daily optimization of advertisers marketing spend in our platform
Maintain and develop our relationship to advertisers and media agencies
Set up and implement partner strategies
Evaluate campaign results
Develop new business areas
Attain knowledge about the market and trends
Contribute with new ideas to the overall growth of Adtraction
Identify and consult new advertisers in areas with growth potential
Who are you?
We are looking for a curious and proactive individual who is eager to learn and develop within Digital Marketing. You are serviceminded and communicative and find it easy to build and develop long-lasting and trusting business relationships. Preferably you have some experience working within digital marketing or E-commerce.
1-3 years of experience from digital marketing/e-commerce or other relevant experience
Team player who enjoys working towards shared/joint goals
Proactive and eager to learn
Results oriented and business minded
Social, service oriented and communicative
Adaptable with a positive attitude
Structured and organized way of working
Self sufficient and responsible
Fluent in Swedish and English
What we offer
A nice work environment
Central location in the city centre of Stockholm
Opportunities to learn and develop in an industry that is in continuous development
Opportunities to influence the business and expand areas of responsibility
Competitive conditions
About Adtraction
With the mission of providing a transparent platform and delivering a better user experience with improved customer support, Adtraction was established in 2007. With roots in affiliate marketing, Adtraction's business model has gradually evolved, adapting to new partner types and new technologies that facilitate more trackable, transparent and scalable partnerships.
Since its establishment, Adtraction has grown to become the leading company in the Nordics in leveraging partners for marketing purposes, both in terms of revenue and number of clients.
The company is headquartered in Stockholm, Sweden with local offices in Norway, Denmark, Finland, Spain, Germany, Poland, the UK, the Netherlands, France and Italy.