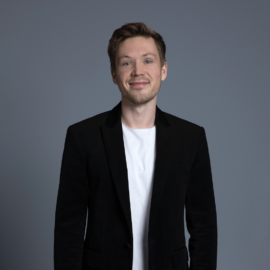 Gustav Lundström
Senior Recruitment Consultant
This job is open for applications
About the role
As SEO Manager, you'll join our global Digital B2C team within our Brands Division to optimize our digital platforms through developing & executing successful SEO strategies. You'll be a part of a fast-moving, flexible, multi-channel digital marketing environment that rewards ambition and forward thinkers. As our online presence is critical for our business, you will play an important role in steering and sustaining our business' growth and success.
This position will be a key addition to the team with a great deal of opportunity to jump in, carve out your path & take ownership on the team. You will work in cross-functional & international teams composed of e-commerce specialists, content creators, web analysts, product owners, UX pros and more. Together, we'll create and execute our digital performance strategies.
The right candidate will be eager to take on ownership and autonomy in a growing and changing working environment, as well as challenge existing processes and ways of working. You'll identify opportunities through data and analytics to drive website traffic and revenue and continually understand, develop and optimize and influence our SEO strategy.
This position will be based in Solna, Sweden. You will report to the Global Performance Marketing Manager, Erik Jonsson, and support our brands division.
Tasks & Responsibilities
Plan and develop the global SEO Strategy (on & off-site) and roadmap
Set goals and define a standard KPI framework for Fenix Brands to evaluate success from SEO efforts and compare across brands/regions
Perform technical SEO audits on our e-com websites, own and drive technical improvements roadmap together with Product Owner at Fenix IT department
Identify, and write requirements for recommend fixes on technical SEO issues with Product Owner
Defines SEO best practices and ways of working (404 management, redirection mapping, internal linking, technical analysis, indexing, content enrichment)
Perform thorough keyword research, competitor analysis and recommend changes to our platforms to improve SEO ranking positions
Lead Fenix Brands towards choosing & implementing a global SEO & content marketing platform to report on keyword rankings, share of voice etc.
Act as an internal super user of the SEO tools and share knowledge with your colleagues to raise the overall SEO knowledge in the group
Own the relationship with our SEO agency and act as internal sparring partner
Contribute/Input to content strategy development (with Brand content teams)
Work with different Marketing & E-Commerce teams to incorporate SEO optimization practices in their work processes (product, on-site content, blog, Youtube etc)
Ensure and follow up on execution of roadmap by regional marketing & e-commerce teams
Work tightly with performance marketing teams to find synergies between organic & paid activities
Align and collaborate with your other SEO counterparts at Fenix Outdoor.
Stay current on the latest digital marketing trends; Identify new and emerging SEO opportunities, best practices, and industry updates
Who you are
We think you could be a great match for the position if you possess the following capabilities:
You have 3-5 years experience in a SEO role within digital development, retail e-commerce or a related field; experience in a digital or SEO performance agency is a plus
You're easily able to demonstrate a track record of achieving growth from applying SEO strategies
You have hands-on experience in SEO, both on and off site
Extra perk if you are experienced with extended work in link building, outreach, online PR
Working or educational experience in web development is advantageous
Savvy user of various SEO and analytics tools (e.g. Search Metrics, BrightEdge, Google Analytics, Google Data Studio)
You are a digital native; You are familiar with HTML, CSS, JavaScript and are an advanced user of Microsoft Office
Fluency in English, written and spoken is required
We also think you have the following traits,
Project leader; you are organized, pay attention to detail, require minimal supervision and are a time management wizard
You like to work hard & take share in a positive working environment
You are ambitious, but curious & humble; You welcome outside perspectives and listen to others' input
You thrive in dynamic, agile environments where processes & status-quo are always challenged
You possess the ability to work across borders with colleagues from all walks of life; you are an expert communicator and can adapt to the team or audience you're involved with
You identify opportunities and challenges autonomously and feel empowered to act out the solutions with evidence-based strategies
You have a love and respect for nature and the outdoors and an authentic enthusiasm toward the Brands at Fenix Outdoor. You are eager to share your passion and engage others to fall in love with the outdoors.
ABOUT US
Fenix Outdoor is a leading group of outdoor brands and retail environments that enables people to enjoy life outdoors and supports survival in challenging environments of our planet. Our house brands include Fjällräven, Hanwag, Tierra, and Royal Robbins. In addition to our Brands division, we own various retail stores across Europe & have a common service that supports our business globally. Our international organization is spread across 20 countries worldwide.
We're a team of nature lovers, some more experienced than others, that likes to spend as much time outdoors as possible. In our offices and stores we are buyers, e-Comm specialists and strategists, marketers, communicators, sales staff, customer service reps and business developers. But in nature, we're all the same.
As an employee for Fenix Outdoor you're offered:
An exciting and innovative job in a great atmosphere
Passionate, mission-driven colleagues who make things happen
An international work environment where employees are encouraged to carve out their path to success
A company that cares about sustainability and doing our best for people, profits and our planet.
Fenix Outdoor celebrates diversity and is committed to continually striving to create and grow a diverse and inclusive workplace for all employees. We provide equal employment opportunities without regard to race, color, religion, sex, national origin, age, disability, genetics, sexual orientation, gender identity or gender expression. We aim to facilitate a safe, fair and kind work environment where all feel welcome and can thrive.