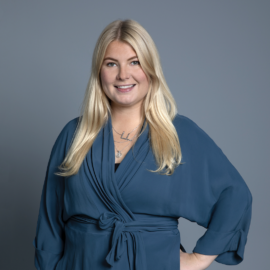 Freja Oldeen
Recruitment Consultant & Search Manager
Den här rollen är öppen för ansökningar
Responsibilities & tasks
Lead the development and growth of the creative studio, ensuring a collaborative and innovative environment that fosters creativity and high-quality work.
Act as a bridge between the creative studio and the executive team, advocating for the needs and priorities of each group while promoting a harmonious working relationship.
Proactively engage with senior leadership to understand the strategic direction and business objectives, aligning creative strategies with overall company goals.
Collaborate closely with cross-functional teams, including executives, to ensure seamless integration of creative projects and alignment with broader business strategies.
Stay informed about industry trends and best practices at an executive level, identifying opportunities to enhance the capabilities and effectiveness of our creative studio in line with market demands.
Provide executive-level guidance on resource allocation, budget management, and project planning, ensuring that the creative studio operates efficiently and effectively.
Facilitate regular communication channels between the creative studio and the executive team, such as meetings, video conferences, and shared documentation, to promote transparency and a sense of unity.
Collaborate with the executive team to ensure that the creative studio receives the necessary support, resources, and information to carry out projects successfully.
Who are you?
To succeed in the role as Studio Director you are or have:
Minimum of 10 years of experience in a similar executive-level role, preferably within the beauty, fashion, luxury industry or a related creative field.
Proven track record in successfully developing and managing creative teams, fostering their growth, and maximizing their potential.
Excellent communication skills, with the ability to effectively articulate creative concepts, project requirements, and budgetary considerations to stakeholders at an executive level.
Strong understanding of budget management, including the ability to allocate resources effectively.
Proficient in project planning and execution at an executive level, with the ability to oversee multiple projects simultaneously and ensure their timely delivery.
Experience working with cross-functional teams at an executive level and effectively collaborating with individuals from diverse backgrounds and areas of expertise.
Strong leadership abilities, with an aptitude for inspiring and motivating creative teams at an executive level.
Excellent interpersonal skills, fostering effective communication and collaboration across teams, including senior leadership.
Strategic thinker with a keen eye for detail, ensuring that creative projects align with broader business and brand objectives at an executive level.
Highly organized and skilled in managing priorities, timelines, and budgets.
Empathetic and approachable, with the ability to provide constructive feedback and mentorship to team members at an executive level.
Adaptable and solution-oriented, thriving in a fast-paced and dynamic environment.
Passion for creativity and aesthetics.
Application
In this recruitment, we at Beyond Retail manage the entire recruitment process in an open-minded and skill-based manner. You simply apply via our application form with your CV or LinkedIn profile. We don't want a cover letter, instead you can briefly describe why you are applying for the job in the application form. Also remember to apply for the job as soon as possible if you are interested since we work with continuous selection. If you have any questions, you are most welcome to contact the responsible recruiter. Please note that we cannot accept any applications via email due to GDPR.
Talk to you soon!