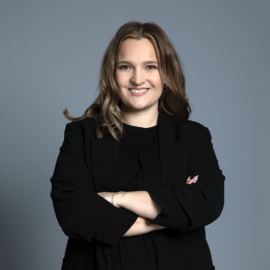 Erika Collin
Senior Recruitment Consultant
Den här rollen är öppen för ansökningar
About the role
We are seeking another highly skilled E-commerce Consultant to join our team of E-commerce consulting all-stars. The ideal candidate will have extensive experience in e-commerce strategy, operations, and implementation. As an E-commerce Consultant, you will be responsible for providing expert guidance to our clients in order to optimize their online sales channels and drive revenue growth. You will take on interim management assignments as e.g. E-commerce Manager, Online Sales Manager or Online Merchandiser.
Responsibilities
Develop and execute e-commerce strategies that align with clients' business goals and objectives.
Conduct comprehensive assessments of clients' e-commerce platforms and provide recommendations for improvement.
Monitor and analyze clients' e-commerce metrics to identify opportunities for optimization and growth.
Collaborate with your manager to ensure you meet your targets for consulting utilization and rate card development.
Collaborate with our other teams within digital marketing and CRM to find synergies and value creation for our clients.
Stay up-to-date with industry trends and best practices in e-commerce.
About you
Bachelor's degree in Business Administration, Marketing, or related field.
Minimum of 2 years of experience in e-commerce strategy, operations and implementation.
Proven track record of driving revenue growth through e-commerce initiatives.
Strong understanding of e-commerce technology solutions, including platforms and third-party tools.
Loves to drive sales online, is analytical and prefers data-based decisions.
Is triggered by challenges but knows that it takes humility, structure & creativity to solve them.
Is results-oriented and at the same time responsive to clients and colleagues perspectives.
Is solution-oriented, unpretentious and flexible
Want to be part of an exciting journey where we together take Beyond Retail to new levels
We attract some of the best talents in the business by offering valuable benefits and knowledge development for every individual employee. And, of course, CSR is a big deal to us. We want our clients and employees to feel that they've chosen a partner and employer they're proud of.
Health and wellbeing are two other factors which are vital to us. We offer a wellness allowance and prioritize work-life balance. Our employees are welcomed to a combination of working remote and at our offices in central Stockholm and Gothenburg. And we always aim to have fun together! Sometimes by solving complex challenges together for our clients and sometimes hitting the ski slopes of Chamonix together.
If you are a strategic thinker with a passion for e-commerce and a desire to drive growth for our clients, we encourage you to apply for this exciting opportunity.