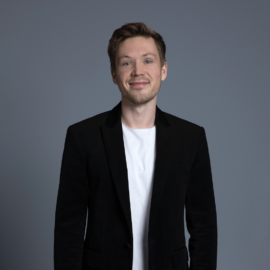 Gustav Lundström
Senior Recruitment Consultant
Den här rollen är öppen för ansökningar
About the role
In this role you will contribute to take EasyPark to the next level in their web presence. They aim to grow their revenue more than 25% YoY and enter new markets where you will be a crucial team member to help them succeed.
Easypark aims to become the #1 preferred brand in their category, and are now paving the way to future success, where you in this role will play a crucial part.
As a key member of the marketing team, you will work to create one strong web experience across markets and user segments. You own the product backlog and lead the build of new functionalities in the web platform and headless CMS. And as their web wizard, you will also lead the way for SEO and CRO in close collaboration with the Digital Marketing team.
Responsibilities
Advice on big web consolidations and be the champion of the global web roadmap
Provide analytical insight into customer acquisition, retention and journeys on the web through testing, learning and scaling
Lead the development and implementation of the SEO strategy, including keyword optimization, link building and the set-up of landing pages.
Roll out new web pages and functionality, working closely with our Regional Marketing Managers, Country Directors, R&D Product, UX, Corporate Comms and Legal Department.
Collaborate closely with Martech, Data Insight and IT Security to ensure an accurate and compliant web tracking is in place with qualitative data fed into dashboards
Own and orchestrate the domain ecosystem for the group
Recommend and execute an annual budget for web development and maintenance
Manage relationships with external hosting and CMS companies, as well as SEO and tech agencies.
You will, apart from this, do other fun things!
Who are you?
You are a person who stays up-to-date with new trends within web development and analytics and independently learns new tools and tactics. You have leadership experience and have been developing ways of working within a team.
You have relevant experience in a high profile web manager or web product owner role which includes: in depth experience from complex web consolidations with proven success, experience with creating a vision for a technical product and working closely with the development team to work towards it. Experience from working with a headless CMS and domain services. Also a proven track record of web launches and providing advice on web strategy for senior management.
You are also an individual with a drive for results, a love for data and SEO and you have an ability to project manage tech projects on a global scale, comfortable 'rolling up sleeves' and operating in a very hands-on manner, understanding that the team is on a growth journey, while at the same time designing our long term web presence.
This role is based in our HQ in Stockholm, Sweden. Uninhibited English is a requirement for this role.
About Easypark
EasyPark is a rapidly growing tech-company with people using their products across the globe. Today you can use the app in more than 3500 cities, and they are focused on their vision to help improve the urban experience by providing data, creating greener cities but also by adding more products and solutions.
"Easypark is a values-driven company with an international culture and a global presence. By providing an environment with space to grow and room for autonomy, we believe in encouraging and supporting our team members to take initiatives and act outside of their comfort zone. To have an open mind and embracing change is a part of our DNA. At EasyPark we are dedicated to maintaining an open culture where the voice of each person is heard, and we play as one team across the globe. Diversity is something we celebrate and we are committed to creating an inclusive environment for everyone."
Application
In this recruitment, we at Beyond Retail manage the entire recruitment process in an open-minded and skill-based manner. You simply apply via our application form with your CV or LinkedIn profile. We don't want a cover letter, instead you can briefly describe why you are applying for the job in the application form. Also remember to apply for the job as soon as possible if you are interested since we work with continuous selection. If you have any questions, you are most welcome to contact the responsible recruiter. Please note that we cannot accept any applications via email due to GDPR. Talk to you soon!