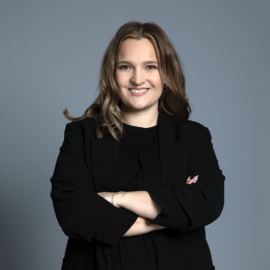 Erika Collin
Senior Recruitment Consultant
Den här rollen är öppen för ansökningar
About the role

Beyond Retail is currently under exciting expansion and due to the high demand for consultancy services we are looking to strengthen our consultant organization with an experienced Senior CRM Consultant. In the role as Senior CRM Consultant, you will act in roles such as Head of CRM, Senior CRM Project Manager, CRM Manager, Loyalty Manager, etc.
You will be responsible for leading and developing strategic and operational commercial CRM plans to reach identified KPIs and targets. Improving multi-channel tactics with the goal to drive short- and long term sales growth and to strengthen the brand. Manage CRM development projects, covering all aspects from defining CRM business requirements, identifying gaps in the data & tech stack, lead the system and operational implementation and to manage the operational handover and follow up on identified KPIs.
You will help our clients scale up their digital investment when acting as an insourced resource with the customer in focus. In your role as a Senior CRM Consultant at Beyond Retail, you will represent, sell, and continue to develop Beyond Retail's offering together with your colleagues. You will be reporting to Head of CRM, and work closely with our other CRM experts for knowledge sharing and state-of-the-art delivery towards our clients.
Your profile
Minimum 5 years of relevant CRM experience
Has experience working with business-critical CRM development, preferably within B2C with great results
Creative and business-minded with the end-customer in focus
Have extended experience of setting up automated, multi-channel, customer segmented communication
Strong knowledge of lead generation, re-engagement, and retention strategies
Proven experience to create and develop CRM digital customer journeys and campaigns
Be highly analytical and solution oriented in nature, as well as able to think outside of the box
Experienced of ensuring data compliance while executing campaigns and collecting data
Used to evaluating CRM KPI's of activities and suggest improvements
Self-starter with an ability to initiate projects and execute from start to finish
Team player with excellent oral and written communication skills. Fluent in written and spoken English
A genuine passion for digital transformation, customer behavior, and conversion optimization
Knowledge in some of these systems: Salesforce, Klaviyo, Adobe Campaign, Voyado, Emarsys.
Examples of some of our clients: Matsmart, Skincity, Filippa K, Ideal of Sweden, GANT, ARKET, Stronger, Lagerhaus, Klättermusen, Åhléns, Tretorn, Superfront, Bubbleroom, House of Dagmar, Edblad, Boob Design, Polarn o. Pyret, Estrid and Glitter.
About Beyond Retail
Beyond Retail is a different kind of consulting firm. With our unique and insourced approach, we help our clients holistically. We accelerate digital growth, increase competitiveness, and boost digital capabilities - and we always act in our clients' best interests, creating the most profitable resource solutions for our clients. For us, being a safe and stable employer is the number one priority. We attract some of the best talents in the business by offering valuable benefits and knowledge development for every individual employee. And, of course, CSR is a big deal to us. We want our clients and employees to feel that they've chosen a partner and employer they're proud of. Some of the core values that inspire us are diversity, equality, and sustainability. We've put this into practice by having an equal number of men and women among the owners and in leading positions, contrasting to many other companies in the industry. Health and wellbeing are two other factors which are vital to us. We offer a wellness allowance and prioritize work-life balance. Our employees are welcomed to a combination of working remote and at our offices in central Stockholm and Gothenburg. Lastly, we want to emphasize that in addition to developing our knowledge and acting in our clients' best interests, we always aim to have fun together. Beyond Retail is our joint home, and we want everyone to go to work happy.
Are you the next person to join our growth journey?