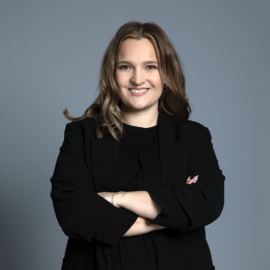 Erika Collin
Senior Recruitment Consultant
Rollen har blivit tillsatt och tar inte längre emot ansökningar
Today Emakina DBG, builds world class digital campaigns, flawless user experiences and creates unique stories to shape strong brands for our clients. The mission of the international Emakina Group is however much broader. As one of the top 3 Salesforce Commerce Cloud partners in the world, our established e-commerce offices have helped hundreds of companies with improving their e-commerce solutions and businesses online.
As part of a group initiative, Emakina Group now wants to expand their e-commerce solution business to the Nordic market and start up a brand unit within the area. In connection to this, Emakina DBG is now on the hunt for a brand new team of entrepreneurial, passionate and customer focused technical, e-commerce talents.
A key role in this initiative will be a Business Unit Director, who will be fully responsible for building up the e-commerce business area on the Nordic market.
About the role

As Business Unit Director for our e-commerce initiative in the Nordics, your work will be broad and range all the way from strategy to operations for areas like sales, marketing, project management, team management, budgeting and consulting our clients in e-commerce strategy.
Networking and establishing Emakina DBG as a trusted salesforce solution provider in the Nordics, will also be part of you mission.
To your help Emakina Group has prepared an extensive support program that includes allocated resources in our technical teams, education and support from our team and e-commerce hub in Amsterdam. And of course the daily support from the CEO of Emakina DBG and the team in Sweden.
Key competencies
Persuasive: is able to enthuse others and generate support for his/her plans and recommendations
Analytical: Having and gaining insight into situations, problems and processes. Deconstructing problems and systematically investigating the various components. Having a complete picture of the context and overview of the whole problem.
Cooperation: is humble, hungry and smart to work towards a shared goal together with peers. Even if it's not in his/her own immediate personal interest.
Developing employees: The ability to recognize employees' strengths and weaknesses, to distinguish their talents and development needs, and to make sure they are enhanced appropriately.
Learning capability: The ability to absorb new information readily and to put it into practice effectively; specifically business requirements and processes for B2B commerce and high level technical architectures for B2B commerce
Skills
Presentation skills.
Project delivery skills/Agile.
Technical DNA.
Takes a consultative approach when selling ideas to clients.
People manager.
Able to work with sales people.
Able to work with delivery.
Experience
10+ years in an agency.
Experience working with eCommerce platforms, Salesforce Commerce Cloud being an extra advantage.
Preferably has worked with international clients, driving international B2B solutions.
We offer
A friendly, informal workplace to work with some of the biggest brands and e-commerce retailers in Europe. We're talking major projects with budgets to match at the very core of our clients' business. You'll work with dynamic professionals and ego-free team players who value personal initiative and development. You can count on a competitive salary an an inspiring international environment.
Emakina Group: the user agency The Emakina Group (ALEMK:BB) ranks among the top three independent full-service digital agency groups in Europe. Its agencies offer cutting-edge digital marketing services to leading domestic and multinational clients focusing on creating outstanding user experiences for their customers, employees and partners. Happy users make successful brands. Nine hundred experts working from 16 offices in 10 countries deliver delightful websites, e-commerce, applications and communication campaigns that build user equity, the key to a successful digital transformation. The Emakina Group reported sales of EUR 80 million in 2017 and is listed on Alternext of Euronext Brussels (ALEMK;BBK – ISIN BE0003843605). www.emakina.com.