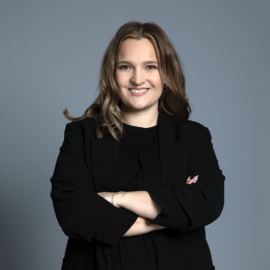 Erika Collin
Senior Recruitment Consultant
Rollen har blivit tillsatt och tar inte längre emot ansökningar
Today Emakina DBG, builds world class digital campaigns, flawless user experiences and creates unique stories to shape strong brands for our clients. The mission of the international Emakina Group is however much broader. As one of the top 3 Salesforce Commerce Cloud partners in the world, our established e-commerce offices have helped hundreds of companies with improving their e-commerce solutions and businesses online.
As part of a group initiative, Emakina Group now wants to expand their e-commerce solution business to the Nordic market and start up a brand unit within the area. In connection to this, Emakina DBG is now on the hunt for a brand new team of entrepreneurial, passionate and customer focused technical, e-commerce talents.
A key role in this initiative will be an E-commerce Solution Architect, who can help our customers succeed by architecting state-of-the-art, innovative, digital solutions.
About the role
As an E-commerce Solution Architect you will establish a trusted advisor-relationship with both our external customers and internal technical teams. You will increase customer outcomes by architecting innovative digital solutions and be a strong voice for our customers. You are responsible for bringing technical and business requirements back to our development teams helping them ensure our solutions continue to meet our customer's needs.
Essential Responsibilities
Establish a deep understanding of our customers' business and technical needs.
Create a "trusted technical advisor" relationship with our customer's technologists and internal technical teammates.
Develop solution architecture framework to support solution selling on an enterprise level.
Help to provide vision, define system and application architecture, problem anticipation and problem-solving ability across the landscape.
Lead change across large platforms / functional areas using technology solutions.
Provide deep technical architecture expertise to ensure proper solution design.
Accompany both customers and internal teams in the execution by providing guidance on methodologies, risk management and mitigations.
Animate workshops at the different stages of conception and execution of the project.
Act as an Agile Coach and guide teams to their use of different techniques to improve both the satisfaction of end users and efficiency of execution.
Help Account Managers and Sales to shape the best answer (in business, methodology and technical aspects) to a customer request.
Desired Skills
Expertise in developing and selling digital solutions. Including creating and executing propositions and a track record of success.
Deep understanding of the technology stack, with a focus on front, middleware, application layer, and cloud technologies.
Strong interpersonal skills, including creativity and curiosity with ability to effectively communicate and influence solution direction to both technical and non-technical audiences alike across all organizational levels.
Technical acumen to interface with technologists, understand complex concepts and translate in a way that businesses or industry can understand.
Demonstrated problem solving and creative skills, ability to exercise sound judgment and make decisions based on market and customer trends – go beyond the status quo.
Ability to deal with ambiguity, strategic agility, manage diversity and drive for results.
Strong technical solutions and integration skills.
Innovated thinker who is able to blend technology and business strategy to develop compelling solution proposals.
Familiar with the major agile methodologies and frameworks, like Scrum, eXtreme Programming, Lean.
Ability to lead and facilitate workshops and meetings.
Technical requirements
Knowledge of AWS and/or MS Azure is mandatory.
Sound knowledge of main technology stacks linked to web development.
Proven development experience with at least one of the following technologies: PHP (Symfony2) / .Net (Core / MVC) / JavaScript (Backbone / ES6 / React / Node).
Expertise with at least one of the following domains: CMS / Ecommerce / CRM / DMP / Marketing Automation.
We offer
A friendly, informal workplace to work with some of the biggest brands and e-commerce retailers in Europe. We're talking major projects with budgets to match at the very core of our clients' business. You'll work with dynamic professionals and ego-free team players who value personal initiative and development. You can count on a competitive salary and an inspiring international environment.
Emakina Group: the user agency The Emakina Group (ALEMK:BB) ranks among the top three independent full-service digital agency groups in Europe. Its agencies offer cutting-edge digital marketing services to leading domestic and multinational clients focusing on creating outstanding user experiences for their customers, employees and partners. Happy users make successful brands. Nine hundred experts working from 16 offices in 10 countries deliver delightful websites, e-commerce, applications and communication campaigns that build user equity, the key to a successful digital transformation. The Emakina Group reported sales of EUR 80 million in 2017 and is listed on Alternext of Euronext Brussels (ALEMK;BBK – ISIN BE0003843605). www.emakina.com.