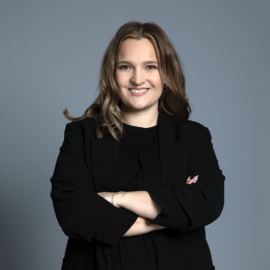 Erika Collin
Senior Recruitment Consultant
Rollen har blivit tillsatt och tar inte längre emot ansökningar
The role
As Head of E-commerce at Fenix Outdoor you will be strategically responsible for the e-commerce business and digital development of our brands Fjällräven, Primus and Hanwag. You will drive innovation, be responsible for strategy, budget, sales and marketing activities with focus on building a world-class customer journey and digital experience. You will report directly to Fjällräven's Global Sales Director and be part of the operational management team based in Stockholm.
Our existing e-commerce team consists of 6 talented members that work with operations, content, campaigns, performance marketing and analysis. As a leader you will act as an inspiring and strategic advisor and make sure we bring our e-commerce business to a new level.
Responsibilities

Develop and implement a profitable and comprehensive digital strategy to achieve desired online growth and a state-of-the art customer experience.
Manage and drive the business unit planning sales, costs and margin targets.
Oversee the planning, design, development, marketing and category execution of Fenix e- commerce
Responsible for the overall site development planning and coordination of the brand's needs.
Act as channel owner and stakeholder towards the brands
Seek opportunities for growth through eg. geographical and channel expansion and/or cost improvements to existing product line.
Work closely with marketing, purchasing and logistics as well as other relevant teams to continuously optimize and challenge our internal processes in favor of our digital growth.
Responsibility for performance and conversion driven marketing. campaign plan, customer acquisition channels, conversion optimization, loyalty, re-marketing, marketing automation etc.
Establish a clear structure for measurement, analysis, optimization and reporting for all digital activities / campaigns and flows.
Coach, inspire, support and challenge your colleagues and give them the right conditions to perform at their best in their respective fields.
You work together with management team and other relevant parties to ensure that during our entire journey, we have the right conditions and digital competency to meet established goals.
Required skills and knowledge
The right candidate will be a business minded, well organized and highly analytical leader with a good understanding of digital transformation, and strong ability to handle different stakeholders.
5+ years of experience and proven rack record from working as a Head of E-commerce or similar
Deep understanding and passionate about e-commerce and digital trends
Demonstrated knowledge in Google Analytics and/or other measurement tools
Self-motivated and energetic individual with a high level of initiative that thrives working in a fast-paced, challenging and digital environment
Excellent commercial awareness, business understanding and understanding of digital customer behavior
Experienced and passionate about leadership and leading through change
Great communication skills and ability to collaborate with cross-functional teams, external partners and influence decision making across all levels of the organization
Fluent in English - both written and spoken
Passion for being outdoors and Fenix misson to make nature more accessible