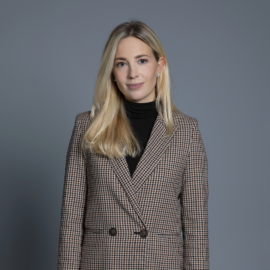 Sarah Gustafsson
E-commerce Consultant
Rollen har blivit tillsatt och tar inte längre emot ansökningar
Odd Molly is now increasing their focus on digital sales, conversion optimization and customer experience, which requires a cohesive and competent team that can support and develop our business during the journey. Since 2019 Hundydory is also a part of the Odd Molly family.
This means that we have an incredibly exciting work ahead - Continuing building two strong brands online! As a part of this journey we are now looking for an analytical Online Merchandiser to our largest brand Odd Molly.
The role
Your mission will be to make products discoverable and desirable for our online customers. Your job will be to maximize product and assortment visibility by curating and optimizing marketing campaigns and our online store based on customer insights. This will require a careful analysis, commercial and data driven mindset, great understanding of consumer behaviour and a close collaboration with the e-commerce team and across departments within the company.
You have a natural drive to find answers in data and an inner drive to seek opportunities for increasing sales in a profitable way.
Responsibilities
Responsible for maximizing online product revenue and profit.
Responsible for making products in the online store discoverable and desirable to customers.
Optimize our costumer journey.
Responsible for product information management on oddmolly.com and support hunkydory.com together with the e-commerce team (e.g. images, prices, descriptions, colours, sizes).
Work with our CRM system as create newsletter and follow up on KPIs such as CTR, open rate, conversions etc.
Curate and optimize product exposure online from a sales, news, margins, inventory and product focus perspective.
Set requirements for content and copy to the creative team.
Work together with the e-commerce team to optimise cross-sell and up-sell on Odd Molly but also support Hunkydory's site.
Responsible for using all current and future online merchandising tools like; on-site search tools, product recommendation software, product videos, social proof UGC imagery, off-site shopping feeds, enhanced visualization tools, related products, A/B testing, reviews and ratings etc.
Responsible for product level performance and purchase behaviour analysis and sharing this information with supply & range to optimise future collections and purchases.
Required skills and knowledge
1-3 years of experience from working with online merchandising preferably in a fashion or lifestyle brand.
Analytical and business-driven mindset.
Great knowledge in Google Analytics.
Commercial awareness and business understanding.
Strong drive and passion for Odd Molly/Hunkydory's products.
English in both written and speaking.
Knowledge of e-commerce platforms and other softwares e.g. Centra is a plus.
Knowledge and experience in SEO is eligible.
Experience in CRM is a plus.