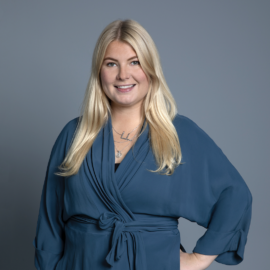 Freja Oldeen
Recruitment Consultant & Search Manager
Rollen har blivit tillsatt och tar inte längre emot ansökningar
The Nordic Associate Marketing Manager is responsible for the planning and execution of New Balance Lifestyle category marketing; from in-store, to PR and activations across all relevant platforms, with the goal of increasing brand awareness/consideration, and ultimately conversion. This role supports & manages all components of the Nordic lifestyle go-to-market plan, ensuring that all initiatives are implemented according to the New Balance EMEA category marketing strategy and Nordic go-to-market plan. You will work cross-functionally to create industry-leading integrated marketing programs that increase brand presence, leverage key cultural moments and drive brand heat. You are someone who is always curious, highly motivated and self-directed, who thrives in a fast paced, dynamic environment. Your ability to articulate an idea, and bring it to life in a meaningful way is second nature, as well as your ability to manage a project from inception to activation.
Major Accountabilities
Lead and plan the go-to-market process and execution for key lifestyle & numeric launches & initiatives
Partner with Nordic Marketing Manager on marketing budget tracking, reviews and launch calendars across all activations and campaigns
Partner with Nordic sales team and key whole sales business teams to ensure seamless consumer experience, planning and delivering on set business objectives
Implement and manage seeding strategy across functions
Work closely with departments in EMEA and internationally, including Product, DTC, Legal, PR, and regional marketing teams to drive program excellence
Shares best practices and creative deliverables with regional counterparts ensuring collaboration and alignment
Requirements For Success
3-5 years relevant marketing experience with background in consumer led marketing
A proactive, self-thinker with the ability to deliver cultural relevance executions
Must understand our products and markets within the streetwear, fashion and entertainment space
Demonstrated ability to work proactively and independently, including the ability to organize, plan and prioritize tasks
Flexibility and adaptable to change
Strong interpersonal/communication skills and the ability to think strategically
Team player
Fluent in Swedish and English
Excellent computer knowledge
Travel required – within the Nordic region
About New Balance
Since 1906, New Balance has empowered people through sport and craftsmanship to create positive change in communities around the world. We innovate fearlessly, guided by our core values and driven by the belief that conventions were meant to be challenged. We foster a culture in which every associate feels welcomed and respected, where leaders and creatives are inspired to shape the world of tomorrow by taking bold action today. At New Balance, We Got Now.
Equal Opportunity Employer
New Balance is committed to equality of opportunity for all current and prospective associates regardless of age, disability, race, religion or belief, gender, sexual orientation, pregnancy and maternity, marriage and civil partnership and gender reassignment. We are an equal opportunity employer and support a culture of diversity and inclusion. If you have not already done so, please let us know if you require any support so we can make the right adjustments and considerations should they be required.