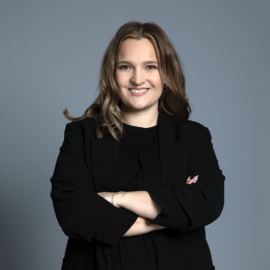 Erika Collin
Senior Recruitment Consultant
Rollen har blivit tillsatt och tar inte längre emot ansökningar
About the role
As Head of E-commerce at OAS, you will be responsible for operating and growing our e-commerce. In this role, you will identify business opportunities, set the strategy, establish clear goals and KPIs and ensure that we have a commercial plan that delivers on our strong ambitions. You'll make sure we deliver meaningful and exceptional experiences throughout our entire customer journey. With a strong understanding of both the art and science of online businesses, you'll ensure continuous growth and smooth digital experiences.
This is a unique opportunity for someone who wants a key role in a growth journey in a company set for global expansion. The Head of E-commerce reports to the CEO and founder Oliver Lundgren and leads an engaged team.
Responsibilities & tasks
Own P/L and innovation/development budget for the e-commerce business.
Set a profitable and comprehensive e-com strategy to achieve desired online growth and a state- of-the art customer experience.
Defining product and e-commerce success metrics, objectives, and key results to guide, prioritize, and measure the success of these metrics.
Act as a project manager to evaluate, prioritize, develop, manage, implement and test e-commerce and tech initiatives to increase online sales.
Develop strategies for the current site as well as to identify new areas of e-commerce opportunity beyond current organizational thinking.
Responsible for traffic acquisition to the site through organic and non-organic incentives, including paid social, SEO, SEM and Google. You will work closely with our agency.
Join us in creating a cutting-edge customer experience for our multi-international customers.
Lead, build and develop the e-commerce team.
Cooperate with our other departments to achieve the best experience possible for our customers.
Who are you?
To succeed in the role as Head of E-commerce:
You have experience from a similar role where you have been responsible for the e-commerce business and expanding to other markets.
Excellent commercial awareness, business understanding and interest in online customer behaviour.
You have a strategic and analytical mindset; data and hypothesis-driven. Strong experience interpreting test results & drawing conclusions, great judgment and speed.
You are a responsible and dedicated leader.
You are interested in being a part of a fast-paced and growing team in an entrepreneurial setting.
You are interested in technology and design.
You are fluent in English. Other languages are a plus.
About OAS
O, A and S are the three initials of the founder's name (Oliver Adam Sebastian). The brand was born during his numerous trips to the family summer home in Barcelona. It all started with Oliver continuously supplying his friends with the rare product of espadrilles, which until 2010 couldn't be found in all of Scandinavia. The espadrilles were soon joined by swimwear, and OAS grew into the resort brand it is today - established in countries worldwide to provide the brand's customers with year-round vacation wear.
The OAS journey encompasses not only the products but also the people surrounding the brand. As a demand-driven label, we work closely with our manufacturers and family businesses to ensure that our garments are of the high quality we expect of ourselves and that our customers expect of us. OAS was founded as a reaction to the Swedish winter, and with a determination to create unique, coveted resort wear that exudes vacation nostalgia. We design with the intention for our garments to last a lifetime—Timeless for the creative soul and beyond trends, with quality being our top priority.