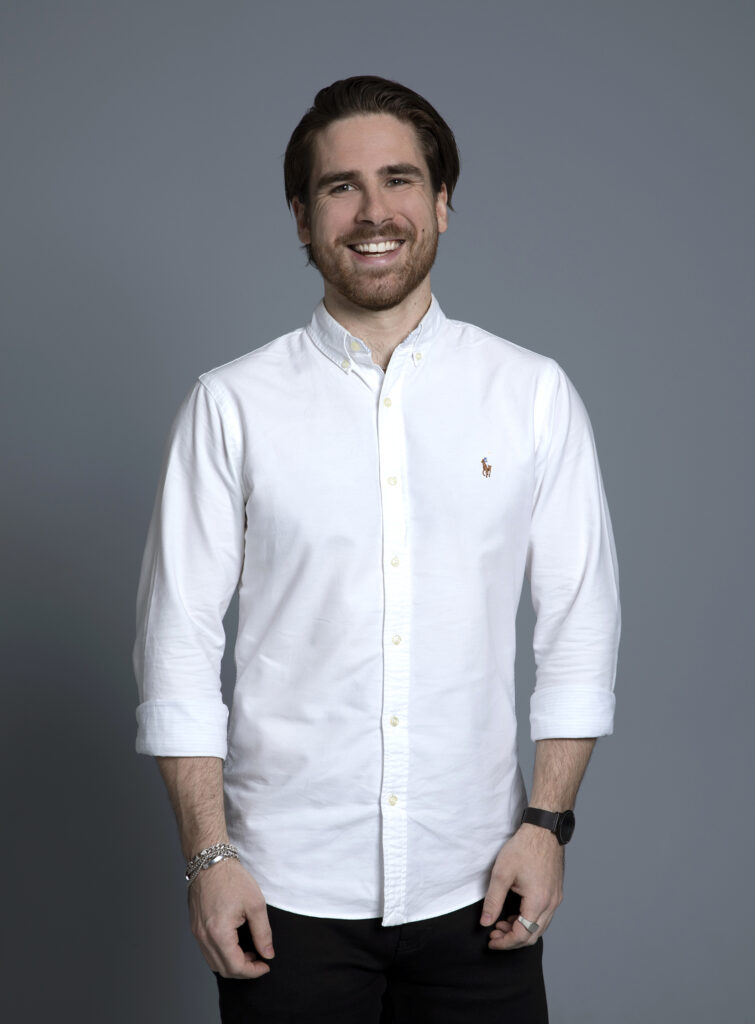 Carl-Johan Claesson is enthusiastic about making everyone understand the true potential of CRM – or "marketing cowboying", as he would describe it. Luckily, as the Senior CRM Consultant and CRM-competency Lead at Beyond Retail, that's exactly what he's doing.
About one and a half years ago, Carl-Johan Claesson decided to leave Berlin, where he'd lived for nearly a decade, and move back to Stockholm. The decision led him to Beyond Retail, working as Senior CRM Consultant and CRM-competency Lead. In his spare time, his passion lies in animal rights and music (metal and hardcore – making him not-so-popular when choosing the office playlist), but during office hours, he has another commitment: CRM, customer relationship management.
– As CRM-competency Lead, I'm responsible internally for our partners, platforms, competency development, etc., related to CRM. We pride ourselves on being platform agnostic, although we have some key partners that we're working with, but since we always want to deliver the best to our clients and be as flexible as possible, it's a constant mission to find the best solutions, Carl-Johan says and continues:
– I'm also Senior CRM Consultant, meaning I work with CRM operatively and strategically directly with our clients. Either from the Beyond Retail office or the client's office, but never from home. I can't do the home office thing, he says and laughs.
"A typical consultant"
Although this is his first job in the Swedish job market, Carl-Johan has ten years of experience working with CRM and project management in Germany. During this time, he worked with both mid-sized start-ups and big established companies like Zalando. But with Beyond Retail, it's his first position as a consultant – something he's very happy about.
– Being a consultant means constantly learning new things in many different segments. You're always one step ahead in market trends, technology, and channels; you have to, in order to deliver the best results to the clients. And with it comes an enormous opportunity for personal development, he says and continues:
– And that's not just about being a consultant. I think Beyond Retail as a workplace plays a big part in that as well. The people working here, the leadership, the transparency; it's something I've never experienced before. I mean, I don't see myself as a typical consultant, but that kind of stereotype doesn't even exist at Beyond Retail. Everyone is always encouraged to be their true self and reach their best potential.
But when Carl-Johan first started at Beyond Retail, the working culture surprised him. He explains:
– During my years in Germany, the working culture could be quite hard from time to time. So when I came to Beyond Retail and experienced the culture here, I thought the warmth and sense of community was just a Swedish thing. But after talking to some friends about it, I realized it was a Beyond Retail thing, which made me even more grateful.
The cowboys of marketing
Even after working with CRM for ten years, Carl-Johan still sees some challenges related to it, especially in Sweden. The CRM market in Sweden is still relatively young, and many are yet to discover its true potential, making Carl-Johan an unofficial and self-declared CRM ambassador and – marketing cowboy.
– I want everyone to understand how important CRM actually is. I mean, all marketing channels are necessary and have to coexist, but if the customers don't come back, it's all gone to waste. We're the cowboys of marketing, the ones who go out in the field, gathering everyone and making them stay, Carl-Johan says and continues:
– And it hurts me when people say it's just e-mailing; it really isn't. CRM is so much more if you're creative with it, have personality, and a bit of colorfulness. No matter the market you're in or the products you work with, taking care of customer relationships is vital. Shouldn't that be everyone's fit?