Interim CRM Manager for Skincity
Our Senior CRM Consultant Miona stepped in as Interim CRM Manager at Skincity to form the retention strategy and to lead a major implementation project.
"It didn't take more than one single week until Miona was fully integrated into the team and already had a plan that was more than we could wish for. Execution of that plan happened very fast and structured building a solid framework for our CRM efforts for the future. Thumbs up to Beyond Retail's CRM consultancy and especially to Miona."
(Stefan Fragner, Skincity)
When Skincity entered 2020, they identified the need to centralize and scale up their CRM efforts. As an online skincare clinic and the place-to-go for the best selection of professional skincare, Skincity has always had the customer in focus. The customer is the basis of every business decision and when growing rapidly and entering new markets, relevance and customer loyalty were identified as key success factors. Beyond Retail got the remarkable opportunity to be part of this journey and started the assignment of Interim CRM Manager. 
Approach
The scope of the assignment was to take on the coordination of daily CRM activities, setting a short- and long-term roadmap and project managing the ESP/CRM platform switch from Apsis Pro to Voyado, linked to the parallel project to switch the e-commerce platform from Askås to Episerver. 
Key Objectives were identified as follows
Setting strategy and tactics for increased customer retention and revenue through segmentation, automation, and optimization
Identifying actionable customer lifecycle KPIs
Establish and lead the work of the CRM team ensuring alignment with other teams
Lead the CRM platform implementation project and set best-in-class technical requirements
Optimizing email deliverability
Localization and personalization of all CRM communications
Output
In a fast-paced environment like Skincity, we quickly identified the need for temporary solutions, easy to implement, and leading to increased revenue. The transformation project was in the starting phase, but we did not want to lose momentum, especially considering the increased online presence as an effect of the global pandemic. After two weeks on the assignment, we kicked off cart abandonment via a third party tool - simply implemented via Google Tag Manager. The conversion rate was a success of 30% compared to the industry average of 10%.
Together with the CRM Team Marketing Analyst, we took a holistic approach to the analysis and reporting and set eight clear and actionable KPIs to follow up on a monthly basis as a complement to daily monitoring of new, recurring, and reactivated customers. When finding interesting insights, we utilized the data for personalization and relevance in the email and SMS marketing campaigns. The Voyado project was successfully launched and finished as planned in September, and now there is a sophisticated ground for automated omnichannel journeys, nudges, and triggers across the lifecycle.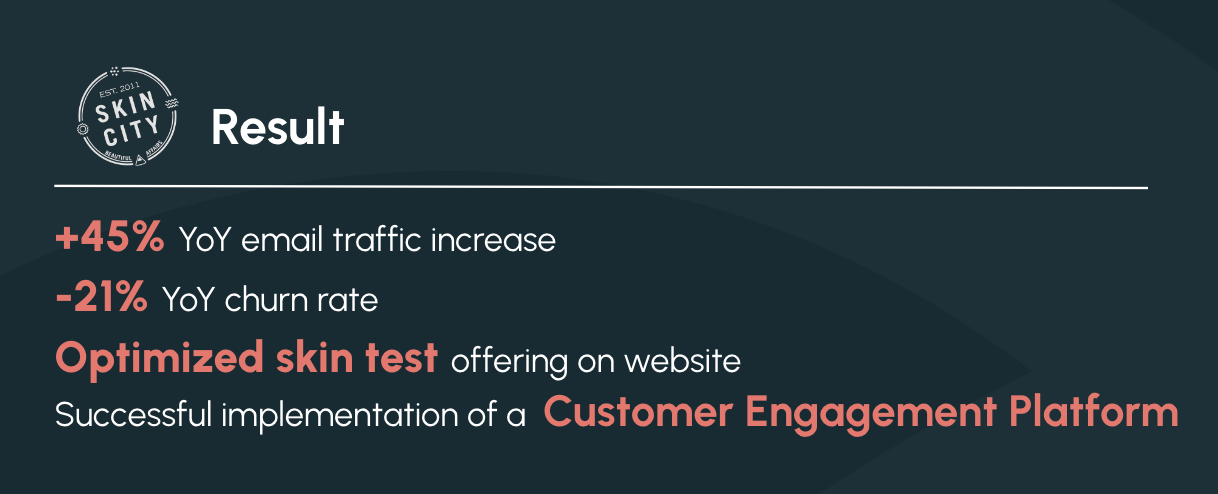 It was astonishing to see the engagement, loyalty, and behavior of Skincity core customer group, and it was truly interesting to be part of one of Skincity's most intense growth periods. New customers were onboarded through the unique skin test offering and we optimized every touchpoint. Together with the talented team at Skincity and in collaboration with Avensia, we established a solid digital ground with an improved customer focus.
At Beyond Retail we aim to deliver the best fit of competency – whether it is through recruitment, consultancy services, or a combination of both. We want to make the experience as seamless as possible. Are you interested in hearing how we can support your business goals? Please don't hesitate to contact me!