What we do: Improve ROAS and drive growth!
1) Take your performance marketing strategy to the next level
2) Optimize your channel mix
3) Leverage your marketing with AI
4) Automate & effectivize your performance marketing
5) Enhance your analytic capabilities



Consulting
Fractional or ongoing Consultancy service to address a specific business challenge or evolving project. Expert on-demand leaders and specialists to support your leadership or wider teams. Beyond Retail is a shortcut that allows you to solve problems and make judgments quickly and efficiently.
Interim Management Consultants
Performance marketing manager, digital marketing manager
Paid Search Specialist, Paid Social Specialist
Management Consultancy & Projects
Digital Marketing Strategy
Digital Marketing Channel Assessment
Profit bidding, Attribution analysis
Tracking & Analytics, GA4, Dashboards, KPI-framework
Recruitment
Having performed over 600 successful digital recruitment processes we have the leading track record and most refined digital recruitment offer on the Swedish market.
Recruitment of the following roles:
Performance marketing manager, digital marketing manager
Paid Search Specialist, Paid Social Specialist
C-suite; CMO
Words from Our Clients
We had high expectations which Beyond Retail undoubtably met
"Beyond Retail has enabled us to continue the positive trend we have built up. We needed proactive, flexible and competent people who could take responsibility and accountability for our working methods and of course – our results. And this was exactly what Beyond Retail helped us with."
Carsten Schmidt
Head of Performance Marketing at Pierce Group
Haresh has in a very short time become an absolutely key player
"Haresh has in a very short time become an absolutely key player and has taken over the responsibility for our paid marketing channels in a fantastic way. Apart from managing and optimizing current investments, he has also completed important strategic projects and has been the driving force in setting up new marketing channels and partnerships. With his knowledge and expertise, he is also a sounding board for me in my daily work. I can really recommend Haresh for similar assignments in the future."
Martin Magnusson
CMO at Royal Design
Full-funnel digital marketing
We help companies with full-funnel digital marketing strategy including brand awareness and customer acquisition

AI and Machine learning
AI and Machine learning is disrupting the role of digital agencies
and will forever change our ways of working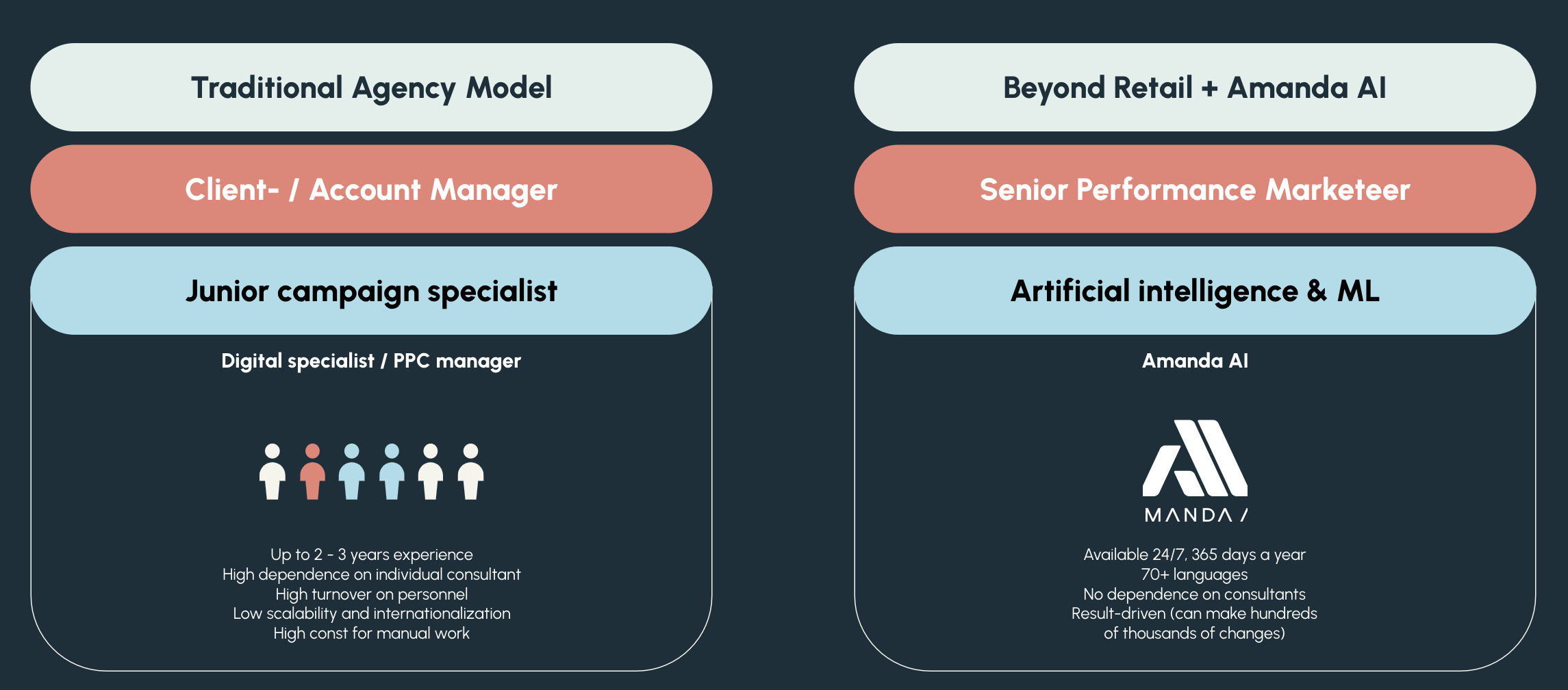 Digital Marketing Insights