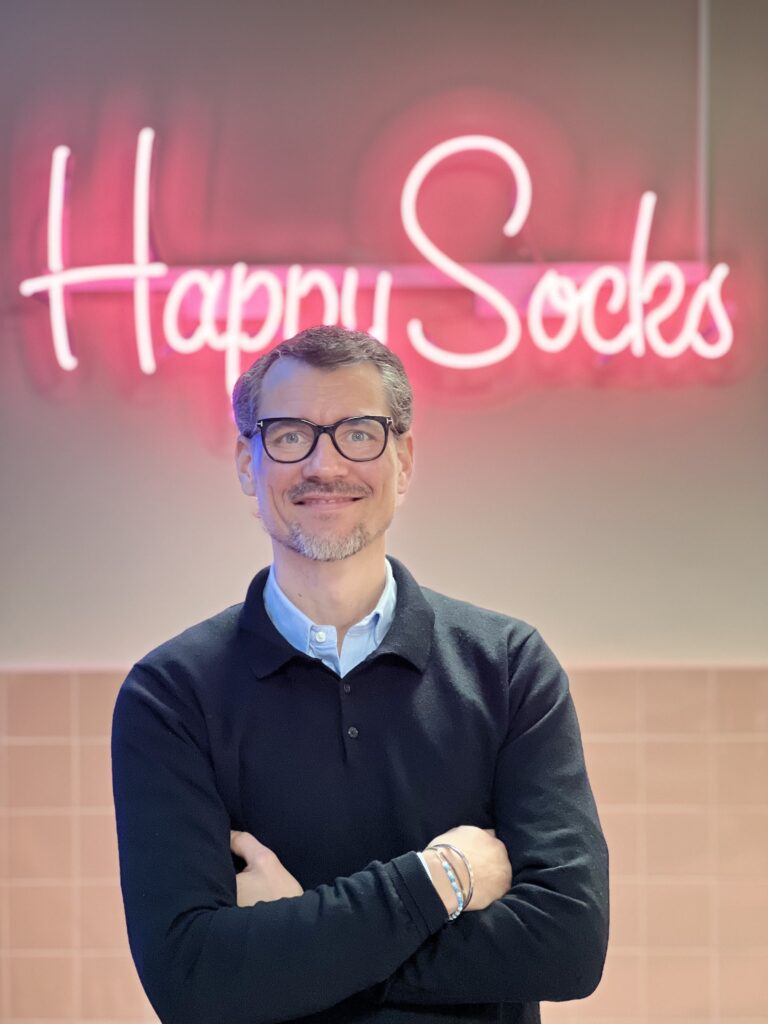 When Happy Socks needed help with long-term perspectives and overlooked areas, they turned to Beyond Retail. So far, the collaboration has involved a reorganization, tangible e-commerce goals, and a lot of knowledge sharing – enabling their employees to excel.
Happy Socks was founded in 2008 by a group of friends aiming to spread happiness through socks. Today, the success is a fact, and their colorful socks have spread all over the globe, making everyday life a bit less boring.
At the end of 2021, Happy Socks had some shifts in their organization which led to a need for long-term perspectives and a sense of security in the e-commerce organization. They decided to bring in Beyond Retail with an Interim Head of E-commerce, who right away found that they had to reorganize the team again for clarity and efficiency:
– We've always focused on being commercially driven, challenging the organization, and finding new ways to optimize operations. The first thing we did was to interview everyone involved and map out the entire organization, what has worked historically, and what will follow in the future. We quickly realized we had to create one global team, working and collaborating together.

Kenny Renes, Head of E-commerce Consulting at Beyond Retail, explains:
– When we started the assignment, we focused a lot on e-commerce hygiene factors. These factors included all different areas, from UX and understanding the e-commerce landscape to value proposition checks and paid search, and saw results directly. We also shaped the 5-year plan converting the company goals to tangible e-commerce goals, redefining what success looks like and how we will get there.

Setting the CRM foundation
During the reorganization, the need shifted for Kenny to lead the digital marketing team and someone to focus on the CRM offer. Robin Ahrnell, Head of E-commerce at Happy Socks, explains:
– Even though the reorganization was a big change for many, it came from the bottom-up and focused on quality. It enabled me to quickly see a need for a proper CRM offer with better use of one of the most powerful CRM tools, Emarsys, and activities beyond marketing e-mails.
Robin built a business case around it and presented it to the leadership team, urging them to bring in Carl-Johan Claesson from Beyond Retail as Interim Senior CRM Manager. His assignment would be to set the foundation for Happy Socks' future CRM work, both in terms of strategies and knowledge sharing.
– I thought CJ would fit perfectly, both regarding experience within CRM and Emarsys, but also as a person fitting well with the company's culture. We needed the CRM expertise and experience to get going and someone who focused on both short-term and long-term results, Robin says.
In practice, CJ focused a lot on knowledge-sharing to enable other employees to grow and develop in their careers.
– Much of my focus was on putting the team in place so they could feel confident in the new CRM strategies and work independently with them. Some of the things we did were building a data foundation that allowed for scaling and personalization, and establishing a marketing database foundation to make data-led decisions and power automation, CJ explains and continues:
– I look forward to seeing their future CRM journey. The entire organization welcomed the expertise I came with, and now that they have the tools to excel even further, I think their developing potential is huge.
Long-term success
For Kenny and CJ, the assignment mainly involved reorganizing, keeping the day-to-day processes running smoothly, building trust and security in the organization, and simplifying operations to set up Happy Socks for success. CJ explains:
– It's been a fantastic journey in digital marketing and CRM, and it wouldn't have been possible without the fantastic people at Happy Socks. We've gotten the trust and mandate from both management and team members, allowing us to fully influence our channels and projects, enabling long-term success and an exciting path forward for the company.
Today, Happy Socks has come a long way in their digital marketing journey, and although the assignment will end soon, they will stay in touch with Beyond Retail, according to Robin:
– We've already talked about the future together. CRM is very sought-after right now, and for future projects when we might need some expert consultation, then we will reach out to CJ and Beyond Retail. Their consultants are good people with exceptional competencies and great mindsets – which Kenny and CJ are the perfect examples of. They fit in our culture right away, and haven't felt like consultants for a second.